Carpet Cleaning Clearwater
Doll Bros' story began in 1964. That's right; our family-owned and operated business has been proudly cleaning carpets and offering other home cleaning services in Pinellas County for nearly 60 years now!
Since day one, our cleaning business had a simple goal:
We wanted to be the experts that our clients can trust and tell their Clearwater, FL neighbors, and friends about every chance they get.
Which Is Better: Steam Cleaning Or Dry Cleaning Carpets?
Despite what you've been lead to believe is the industry-wide norm, there's a better way to achieve clean carpets than steam cleaning.
A carpet cleaner doesn't have to be a big, loud machine that leaves you waiting up to 24 hours after the service for the carpets to dry. Still, most "professional" businesses operating in Clearwater, Palm Harbor, and Saint Petersburg, Florida will resort to hot water extraction (HWE) methods.
Here's the thing:
High humidity levels are part of living in Clearwater, FL.
And in an already humid climate, the last thing you need is for the carpet, tile, and rug cleaning process to introduce tons of additional water with a steam cleaner.
That's why Doll Bros worked on developing a specialized low-moisture cleaning service that's better suited for the air quality and humidity levels in your Clearwater, FL home.
What Is The Most Effective Carpet Cleaning Method?
Our Clearwater carpet maintenance services are based on a specifically designed low-moisture cleaning method that:
Uses less than two gallons of water to cut down on excess moisture
Doesn't leave your carpets and rugs wet or cause odors during the drying process
Doesn't result in the so-called wicking effect, where stains reappear once the surface is dry
And as with everything else we do – from tile and grout to upholstery cleaning – we made this a multi-step process to ensure long-lasting results.
Here's a quick overview of Doll Bros' signature nine-step process that cleans and restores your carpets:
Pre-treating any spots or stains
Applying cleaner solutions and sanitizers
Removing dirt and debris thoroughly
Repeating the previous steps as needed
Removing dust from baseboards and surrounding areas
Vacuuming the carpets
Using Scotchgard protector and deodorizer products
Raking and grooming the carpet's pile
Providing a free bottle of spot cleaner to maintain the carpets between scheduled cleanings
Our low-moisture approach is flexible and suitable for humid environments, such as Clearwater, Palm Harbor, and Saint Petersburg, FL. More importantly, it tackles every single problem area – dirt and dust build-up, odors, bacteria, and stains – head-on for optimal results.
Contact us at Doll Bros today and see why we're the best in Clearwater!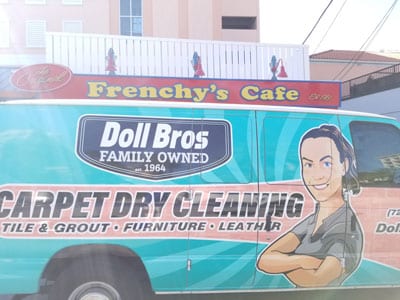 Best Carpet Cleaning Services In Clearwater, FL
Our 5-star customer reviews and returning clients are proof enough that the services our cleaning business offers are nothing but satisfactory. And we take pride in being the best rug cleaning Clearwater, FL business.
But we'd like you to know that Doll Bros can do more for your home than merely cleaning your carpets.
Besides our residential and commercial carpet dry cleaning service, we also do:
We keep things simple and transparent by providing all-inclusive home cleaning services in Clearwater, with no hidden fees, upgrades, or add-on services – from carpet and upholstery cleaning to tile and grout.
And we're also happy to share tricks of the trade, such as stain removal tips, with our Clearwater, FL clients!
Family-Owned Clearwater Cleaning Business With A 100% Satisfaction Guarantee
Over the past six decades, our goal has been to provide the best cleaning services in Pinellas County as a way to serve our community. Quality service free of hidden fees or upsells, and happy customers – that was the Doll Bros' dream.
And to this day, we take on each carpet, upholstery, tile, and grout cleaning project with a commitment to excellence and honesty.
We don't do it solely for the paycheck, though:
Doll Bros carpet cleaning service, now in its third generation, has become our family tradition. We'll do an excellent job maintaining your carpets, rug, tile, and grout because it's personal to us. Our name and legacy are at stake.
Contact us today and see what makes Doll Bros the best carpet, upholstery, and floor cleaning service in Clearwater, FL!