Tile and Grout Cleaning by Doll Bros
Best Tile and Grout Cleaning: Doll Bros
Ceramic tile is a beautiful surface until it isn't. People don't often think about the upkeep of grout and mopping may cause additional issues, which we'll cover in a bit.
As a homeowner, you know that cleaning tile and grout is a very challenging job. In over fifty years of serving homeowners, no one has ever told us they wished they had the time in their schedule to get on their hands and knees to scrub each grout line.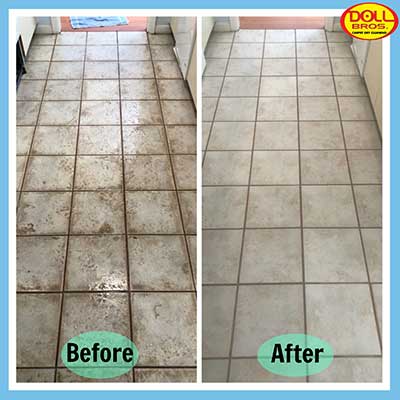 Not only is tile and grout cleaning time-consuming, but it can also be physically painful.
Tile and Grout Cleaning Brightens the Entire Room
Doll Bros' step-by-step cleaning technique makes tile floors beautiful again!
Step 1: Prepare & pre-treat grout lines
Step 2: Apply cleaners to the tile surface and grout lines
Step 3: Scrub grout lines & dislodge the dirt and germs
Step 4: Remove and flush the mud out with an enclosed pressure washer
Step 5: Apply grout sealant to the grout lines
Step 6: Steam mop for a final brilliant finish
Our six-step process, plus the cleaning products, the specific machines and tools that we use are all designed to remove the toughest dirt and debris, even if it's years old!
The biggest compliment we hear over and over after the tile and grout cleaning is finished is: "I can't believe how bright this room is!"
Read More…